Become a franchise partner
and part of a success story!
A Coffee Taxi with

unlimited possibilities
As a franchise partner, you have almost unlimited opportunities to sell contemporary and innovative coffee specialties. Thanks to the self-sufficiency of THE FLYING COFFEE smart fourfor, you can spontaneously drive to attractive places with a lot of people as well as follow fixed routes with fixed parking/stopping places and be beckoned as a coffee taxi.
Spontaneous places can be tourist attractions, events or companies and cooperating retailers looking for a magnet for their business. You organize bookings for events such as fairs, city-festivals, flea markets, weddings, company anniversaries, show days and private parties. Or arrange tours to companies – they are happy about the change for their employees and as a motivational kick.
Possible places
Bus stops, playgrounds
Sights, vantage points
Park entrances, popular walking paths
DIY stores, furniture stores
Registration offices
businesses
And many more …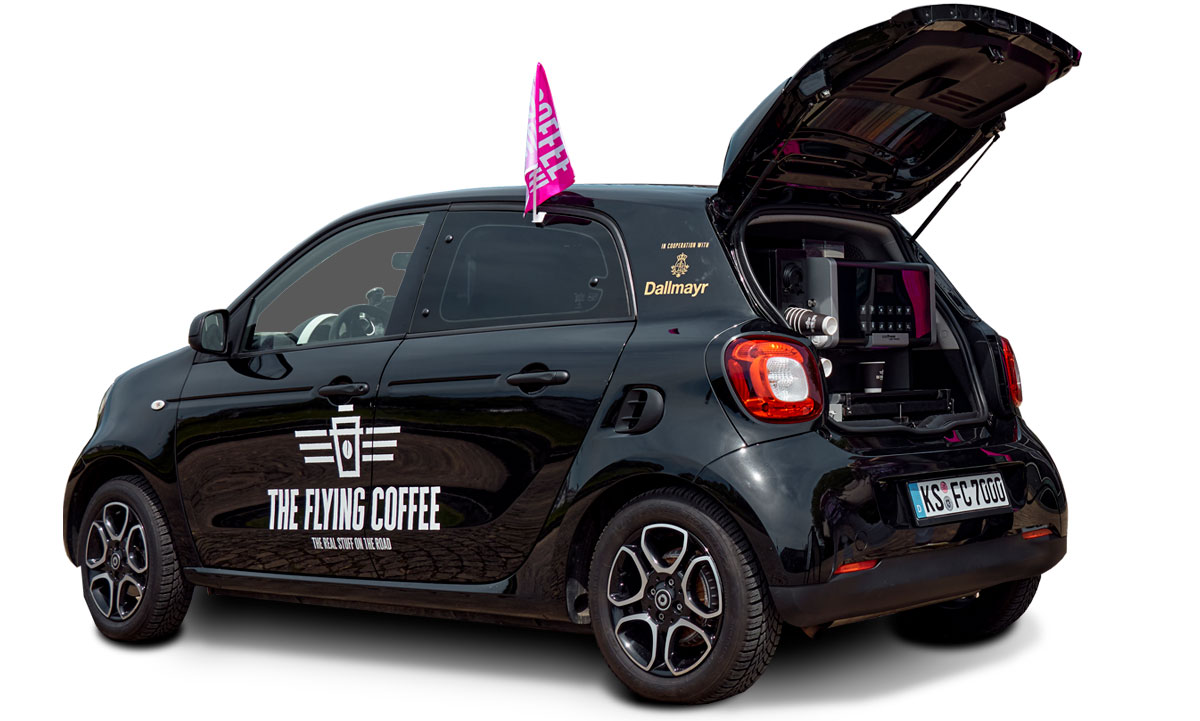 Homemade
Pastry specialties

Coffee machine with
Display and lighting

Best coffee
Barista quality

Musicstation
with lounge music
Incredibly mobile
THE FLYING COFFEE is a
coffee machine that has become smart forfour
converted into a mobile coffee machine.
Maximum independence
With the help of lithium batteries, the high-tech coffee machine can be operated for up to six hours.
Uniquely flexible
The change of location offers the perfect conditions for supplying your region with fresh coffee on the spot.
Incredibly versatile
A variety of areas of use depending season, time of day and weather conditions: parks, playgrounds, companies, events, etc.
Advantages for franchisees
Fair & transparent franchise fee
Independent of turnover
Low investment volume
One-off incl. car conversion/starter package
Support from the TFC house bank
Simple financing assistance
Support & start-up assistance
Advertising materials, goods, insurance
A strong brand
Benefit from our marketing concept
Suitable for everyone
No expertise required
Become a
franchise partner

now

By signing a franchise agreement, you become part of a franchise system that breaks new ground in the coffee and gastronomy industry. Convince yourself of our comprehensive support in all matters relating to organization, operations, product selection and sales strategies. In addition to a large network, you can also benefit from our support and experience. As our partner, you don't have to achieve specific sales targets or meet deadlines.

You are your own boss!
Turn your own strength and commitment into cash!
Your next steps
send enquiry form
arrange an appointment
get you financing concept running
sign the franchise contract
get on board and get started
Fill in the form now and
apply.
"*" indicates required fields